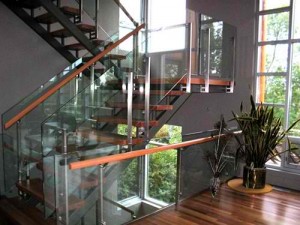 Have you been looking for new ways to upgrade your home aesthetics?
Glass railing is the trendiest and most preferred choice of many homeowners. They are a great alternative to the wooden railing and add a contemporary touch to your home.
Apart from adding a dynamic to your space, they are safe, low maintenance, and highly resistant to withstand cracks and damages. This is due to the process used for installing tempered glass.
Chinook Glass & Screen Ltd has been providing the residents of Calgary with the finest glass railing solutions according to their needs and demands. We have various glass and railing styles to fit your home requirements.
In addition, our glass railing repair and replacement services include quick fixing to all kinds of railing issues. Our experts possess the unmatched skills to perform the glass railing installation efficiently.
Why Is Interior Glass Railing a Good Option for Your Home?
Glass railings, despite being popular amongst many homeowners, are subjected to multiple questions related to their safety and maintenance. These classic glass railings are not only safe to be installed on any property but super easy to maintain and repair as well. In addition, they are durable and provide equal security as usual railings.
The glass used for railings is no ordinary glass. Instead, they are the most rigid tempered glass, made especially by considering their application.
At Chinook Glass & Screen Ltd, we offer several custom railings options to enhance the outlook of your place. Whether you want a simple or extravagant design, we have you covered with our multiple styles and designs. Our interior glass railings are sleek and follow strict durability standards.
Besides, in case of accidental damage, our experts know the trick of easy glass railing repair. They can handle all sorts of issues effortlessly, preserving the appeal of your interior.
Following are the types of glass railings we cater to throughout Calgary:
Full height glass railing
Infill panel glass railing
Bolt fitted glass railing
Horizontal edge glass railing
Vertical edge glass railing
Advantages of Getting Outdoor Glass Railing
Gone are the days when wooden or aluminum railing was a thing. Currently, glass railings are widely preferred for all commercial and residential properties. They are versatile and considered a practical alternative to other railing varieties.
Apart from this, the multiple benefits make them ideal for any place.
Considering glass railing for your balcony is a great option, especially if you have beautiful view outside your place. Glass railing eliminates the barrier between you and the view and also adds a chic touch to your room. With our numerous glass railing styles, you can enhance the outlook of your home to a greater extent.
Compared to traditional railings, outdoor glass railing comes with various unique designs. Getting them installed gives you a free hand to renovate your home by customizing them as you desire.
Wooden or metal railing in the home blocks light and decreases visibility. Installing a glass railing for your place is an efficient way to widen a small area and allow an easy light flow.
Glass railing demands minimum maintenance and is easy to clean. Having them in your home can rid you of the miseries of rust and mold, which are common in iron and wooden railing.
Gear Up to Avail Exceptional Glass Railing Repair and Replacement Services
Stop stressing over that cracked glass when you've got us by your side. Whether you need to repair, replace or install glass railing at your property Chinook Glass & Screen Ltd offers all these services at your convenience.