Commercial Glass Doors and Store fronts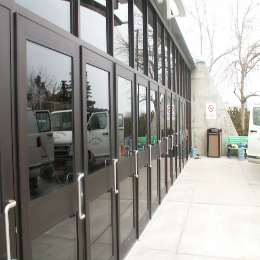 Doors are the first thing that welcomes visitors to your store. So, how about making a lasting impression on your visitors by getting some classy yet secure doors for your business?
Chinook Glass & Screen Ltd. has a variety of glass door styles and designs that perfectly fit the requirements of all commercial spaces and offices. Availing our glass door installation services can immensely uplift the ambiance of your commercial site, giving it a modernized yet elegant look.
Glass doors are quite popular in commercial constructions and look great. The transparent material possesses numerous qualities that make it ideal for corporate settings and give an appealing outlook to your office's aesthetics.
Commercial doors with glass are convenient and considered effective in controlling high traffic within the office space. Glass doors have taken over traditional steel and wooden door, as they are easy to clean and maintain.
We Are the Commercial Glass Experts in Town
The front door of commercial structures has its importance and serves various roles. So, choosing a suitable type of glass door for your storefront is essential. Chinook Glass & Screen Ltd. is a renowned supplier of storefront doors in Calgary and has been dealing with a variety of glass doors for decades.
We have all kinds of popular and unique commercial glass doors that you can choose for your storefronts depending on your requirements. Our range of glass doors includes the following:
Transparent Glass
Coated or Tinted Glass
Frosted Glass
Safety Glass
Insulated Glass
Why Choose Commercial Glass Doors?
How can glass doors be an alternative to steel or wooden doors in terms of pressure and safety? If these doubts bother you, you don't have to worry.
It doesn't matter if a storefront door, partition, or walls are made of glass, as they are tempered and can easily withstand pressure and wear and tear. Tempered glass is strong, and the chances of it getting shattered are minimum. The businesses prefer glass storefront doors for the following reasons:
Automatic glass doors control the high traffic efficiently during the busy hours in a store or mall, cutting off the congestion and struggles customers have to face.
Custom glass doors are primarily installed in business structures with safety features, including a timer, sensors, and remote control. These features automatically unlock and lock the doors, securing the place without being physically present.
Sleek design and structuring of glass doors add convenience by occupying less space than door fitting made from other materials. It makes the office premises spacious and classy.
Rust and Rodent Resistance
Glass doors do not rust or get infested with critters and termites easily. They last long, do not need to be replaced often, and are easy to clean.
Installing Commercial Glass Doors Gets Easier
Properly fitted, shaped, and customized glass doors add to the overall appearance of the office setting. Our commercial glass experts ensure that all demands and requirements of the clients are fully addressed by carefully personalizing and shaping the glass. So, contact us now to discuss your needs with our experts.