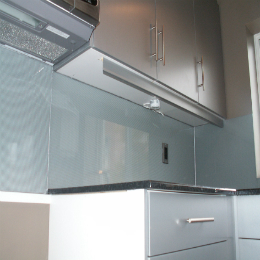 You must have noticed that certain building lobbies, homes, bathrooms, and kitchen appears more colorful, slick, and appealing than others. 
Back painted glass is rapidly gaining popularity in many residential and commercial applications. They are panes painted on one side displaying the opaque glass surface. Back-painted glass creates a contemporary and elegant look with an impeccable finish that lasts for years.
Chinook Glass & Screen Ltd. has got a variety of colors and designs for back painted glass to choose from. We specialize in combining clear, patterned, tempered, and laminated glass to fit the requirements and create the desired look for your project.
Back Painted Glass Installation and Applications
Back painted glass is popularly installed in bathrooms, kitchens, commercials, and other areas. Considering its durability and various practical benefit, people prefer installing back painted glass instead of wallpapers to upscale the overall look.
Back painted glass interior is most demanded in kitchens as they do not get stained by splatters and are super easy to clean. Custom glass kitchen backsplash can rid you of maintenance woes, giving you that ultimate stain-free finish for a long time.
At Chinook Glass & Screen Ltd, we carefully carry out the process of adhering back painted glass to a wall with ultra-strong glue and suction cups. Having served the industry for decades, we have mastered the skills of integrating back-painted glass in every setting, such as:
Wall Cladding
Bathrooms and Showers
Kitchen Backsplash
Accent Wall
Outdoor Areas
Office and Lift Lobby's
Cabinetry Doors
Countertops
What Are the Features of Back Painted Glass?
Commercial developers and home improvers choose custom back painted glass due to its versatility and attractive qualities. Apart from giving a fresh and trendy look to the spaces, people also prefer back painted glass for the following features:
Glass wall panels are resistant to cooking grease and do not soak up germs quickly. As a result, they are easy to disinfect and maintain.
Water-based polyurethane paint used in back painted glass complies with building sustainability standards. In addition, the use of low iron glass enables the color to shine thoroughly.
Back painted glass can be installed on both vertical and horizontal surfaces. In addition, it can be customized to fit specific requirements through careful cropping and fabrication.
Back painted glass is ideal for all kinds of spaces due to its durability. It is highly resistant to scratches, humidity, moisture, and UV rays. Moreover, back painted glass is long-lasting and made to retain its beauty under all types of conditions.
Leading Glazing Solutions
Chinook Glass & Screen Ltd has over 50 years of experience delivering quality hardware products in the Canadian market. With our cutting-edge glass tech, we provide ultimate glazing solutions for all kinds of interior project requirements. In addition, our experienced technicians are fully equipped to address all your personalized glass project demands. So, revamp your properties and give them a fresh and chic look with our back painted glass installation services.