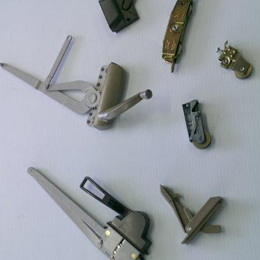 Sliding patio doors are easy to use and an attractive interior home design element. They not only add beauty to your home space but also allow sunlight to enter your place, giving a wider-looking area. However, with time due to wear and tear, your sliding patio door may lose its efficiency and show problems while using it. This can result in a great security risk for your home.
Chinook Glass & Screen Ltd offers exceptional patio door repair and maintenance services to preserve the charm of your home aesthetic and patio door. Our specialists are proficient and can assess the damage in no time, performing the repair process efficiently.
Our inventory includes operators, rollers, handles, guides, locks, channel balances, screen, mohair and vinyl weather stripping, man door and commercial door weather stripping, door sweeps and much more. Please feel free to e-mail us a picture if you would like to know if we have what you need in stock info@chinookglass.com, call to arrange for one of our technicians to come onsite or bring samples of what you need into our store.
Get Quick Patio Door Replacement Parts Service
Due to mechanical and environmental causes, your sliding patio door may show problems. Getting it repaired in time is a good idea. It minimizes security risks and keeps your patio appealing.
At Chinook Glass & Screen Ltd, we deliver repair and all parts replacement services for sliding patio doors throughout Calgary. Our sliding door repairs and replacement services include the following:
Worn out latches 
Broken hinges
Worn out springs 
broken locks
Cracked glass
Benefits of Patio Door Maintenance
Availing patio door maintenanceservices from Chinook Glass & Screen Ltd is a great way to keep the vibrancy of your door. Our experts can thoroughly inspect your patio door, checking out the intensity of the damage and other issues. 
Doing so will not only save you from significant problems in the future but will also deliver the following benefits:
Cracked patio glass becomes less energy efficient and fails to maintain the energy to the fullest. Getting our patio door maintenance services can help you prevent costly and unwanted energy loss by installing a seal that efficiently keeps the ventilated air inside your space. 
Getting your patio door repaired by Chinook Glass & Screen Ltd will rid you of the unattractive patio. A fixed patio door will bring back the lost charm of your home ambiance and offer you various new options for replacement.
Our patio door repair and replacement services offer effortless patio door functionality once it's repaired. Our professionals thoroughly inspect the damage and fix it with an advanced process.
A repaired patio door can save you from the security risk that comes with the malfunctioning of the door. Whether it's a cracked glass or a broken lock, there's nothing that we can't fix.
Best Patio Door Repairing Service at Your Convenience
If you're looking to get your patio doors repaired without any hassle, then you know where to look. Contact our experts today and retain the beauty of your home in no time.