INTERIOR GLASS DOOR SYSTEMS IN CALGARY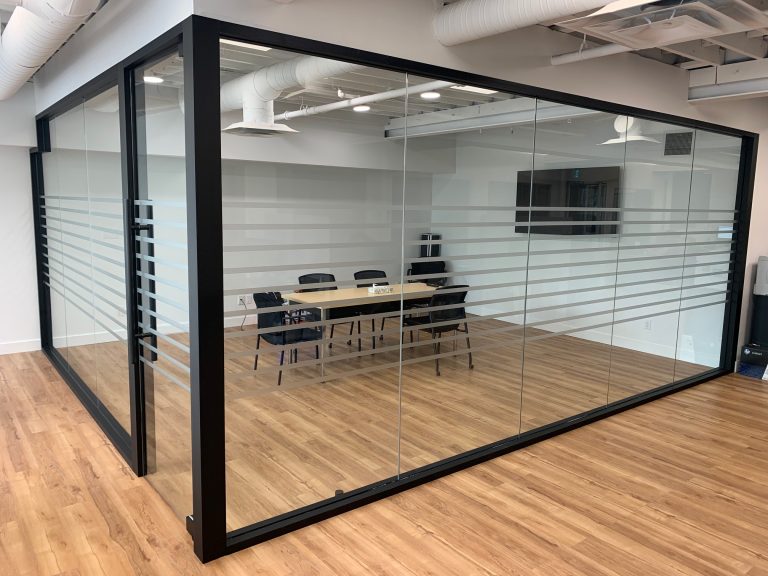 Modern design and architecture rely much on glass. Glass is a strangely amazing material. It has endless potential to transform any space both aesthetically and practically. As a result, many people now prefer glass as an essential element in their interior design.
Besides, the interior glass door and partition give a bold and trendy outlook while offering a new interior style compared to traditional barriers and walls.
Understanding the consumer demand and benefits of interior glass doors, Chinook Glass & Screen Ltd. offers a wide variety of glass doors in structural design. Our best-skilled professionals work effortlessly with interior glass installations ensuring proper fitting and setting.
Quick and Easy Interior Glass Doors Installation
Replacing interior doors with a glass panel is one of the most effective yet innovative ways to give your home a fresh and chic look. Interior glass doors instantly uplift the aesthetics of spaces, creating a noticeable change that transforms them into secure and well-designed places.
Our innovative process and state-of-the-art technology enable us to replace and install any property's doors within minimum time and creating no mess. Our interior glass doors installation procedure is seamless and performed in the following way:
Digital measurement of door frames
Robotic automation and cutting
Thermal infusion of door paints
High-end final touch
Verification and accuracy
Benefits of Commercial Interior Glass Door
Installing frameless interior glass doors with a connected glass divider creates a new ambiance allowing natural light to reach every corner and space. Having glass doors in office spaces brightens the place and promotes enjoyable working areas.
Besides, installing glass doors provides similar insulation benefits as regular doors. Apart from this, many people prefer glass doors in their homes and offices as they offer the following:
Installing interior glass doors in your home or office brings a more sophisticated and high-end appearance. Plus, they are available in various designs, making them easy to select as per your space.
Glass doors allow light to enter the entire space, brightening up the hallways, which usually see little natural light. In addition, glass doors are amazing at instantly altering the rooms' interior, making them more spacious.
Interior glass door immensely improves the heat retention of homes. The glass panels let the natural light flow freely within the home interior while its core keeps the environment warm by reducing heat loss.
Glass doors are long-lasting and commonly used in various settings. In addition, they are easy to maintain, clean, and scratch resistant, making them ideal for contemporary home and office interiors.
What to Expect with Chinook Glass & Screen Ltd?
Our skilled professionals know the trick to crafting and installing all types of customized interior glass doors for your spaces. When you call our experts for glass door installation at your property, rest assured you can expect on-point, efficient and satisfying service. So, contact us today and revamp your entire home interior by availing our interior glass door installation services.