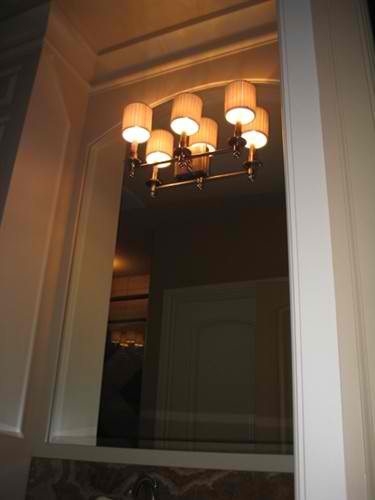 Your bathroom vanity is incomplete if you haven't installed mirrors in it. Mirrors work like wonders in opening up the appearance of a room. Besides, custom mirrors infuse a welcoming warmth into the space and add an appealing, functional design element.
People install mirrors for multiple reasons, but most importantly, to enhance the beauty of their space. Chinook Glass & Screen Ltd. fabricates and custom cuts mirrors to meet your specific requirements. We've got a variety of unique shapes and ornate frame mirrors to fit the aesthetics of your home.
Custom Mirror Designs and Mirror Installation
Mirror installation dramatically uplifts the appearance of your bathrooms, home, and business space. The best part about mirrors is that they double the perceived size of a room, making it appear spacious. Whether you prefer them as small decorative accents or architectural ornaments, our custom-made mirrors can add style and drama to your place by emphasizing the focal points.
Having served decades in the industry, we are known for providing top-class custom mirrors in Calgary. Our mirror and glass installation service beautifies and accentuates your living and working spaces. All our custom mirror designs come with the following features:
Safety Backing
Shop Sanded Edges
Finest Thickness
Perfect Fit
Cap Molding
Why Should You Go for Bathroom Mirror Installation?
Do you want to make your bathroom look bigger? Installing mirrors is a simple solution to do so.
Mirrors have always been a part of bathroom design due to their accentuating qualities. Installing mirrors in your bathroom vanity gives you a spacious feel by enlarging and brightening its appearance.
For your next bathroom renovation, you should consider investing in custom cut mirrors, here is why:
Installing mirrors reflects the light in the entire bathroom space. Besides, it amplifies brightness, making the area appear more open, spacious, and less cramped.
Adding a mirror in a small bathroom space adds depth and helps open it up. In addition, it augments a little attraction in a boring bathroom by reflecting more light in the corners.
Mirrors add a sense of drama and visual interest to your bathroom. Irrespective of the size of the bathroom, adding custom mirrors enhances the room by changing its entire look.
Conceals Wall Imperfections
Mounting a mirror on the wall is a great way to conceal minor imperfections in your bathroom. This saves you from repair and re-working required to maintain the design.
We're the Leaders of Custom Mirrors in Calgary
Chinook Glass & Screen Ltd. provides all kinds of mirror installation, repair, and replacement services in Calgary. Whether you need mirrors for your home or business, hiring competent professionals is essential to get the mirror installation done efficiently. So, hire our mirror installation services and give your home, bathrooms, and business site a new vibe by adding custom mirrors to it.